About Ice Cave Technology
Contact Information:
Craig Wall
Ice Cave Technology
(907) 231-0392
E-mail: Hey Craig!

Profile:
About Craig Wall, sole proprietor:
OVERVIEW:
Mr. Wall launched two winning businesses. His first company, Mentor Max, trained over 1,200 companies and individuals in graphic design, video and new media software. His second company, Access2 Interactive, won repeat business with some of the world's finest companies. That studio lives today under a new name: Ice Cave Technology.

EDUCATION:
University of California at Los Angeles, 1984, Bachelor of Arts in History.
PROFILE:
Enjoys Pro Football, March Madness (Go Bruins!), hiking, biographies, and epic or sci-fi movies. Moved to Anchorage in the summer of 2008, following life-chapters in Dallas and Denver. Grew up in California.
First came to Alaska to construct a data engine on the North Slope. Shortly thereafter Craig became a permanent Alaska resident.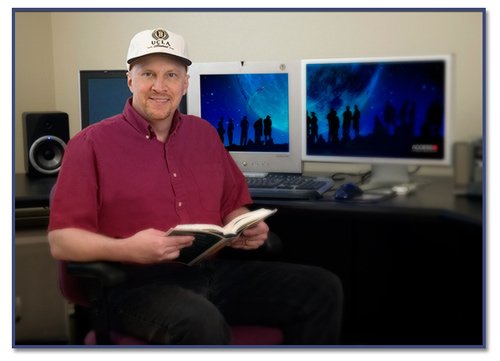 Links:
43 Folders: finding the time and attention to do your best creative work.
Apple Insider: Best of the Apple rumor sites.
A List Apart: For people who make websites.
John Nack on Adobe: Adobe from the inside.
The Russell Brown Show: Photoshop guru.
Flashkit: Rich Flash community.
Guy Kawasaki: Change the World: The first guy who really excited me about business and integrating creativity and business development.
CSS-Tricks Great tutes, stuff. On top of it all—Chris is a brother in baldness!

Digital ToolBox:
COMPUTERS
Macintosh Pros, MacBook Pro,
2 PC Workstations for 3D Graphics and Animation

Wacom Tablet
CAMERA/GEAR:
Sony A7sii

DJI Mavic Pro Drone,
Ronin SteadyGear,
H4N Mobile recorder

Ninja 5 Panoramic Head
Tripods, Lighting
Primary Software Tools:
FileMaker Pro
Adobe Creative Cloud
Cinema 4D
Bohemian Sketch
Camtasia Studio
Microsoft Office
Final Cut Pro
Logic Pro
Note: Ice Cave uses only properly licensed (purchased) software.